Site::Finacle Site McCamish McCamish ECMS McCamish FileNet MostUsed::CBS Just for Info SBCO Utility Sanchay Post POSB Calculator
Any Queries related to Post Office(s)/ Latest Updates / your ideas can share with PoTools via potools1@gmail.com

May 28, 2016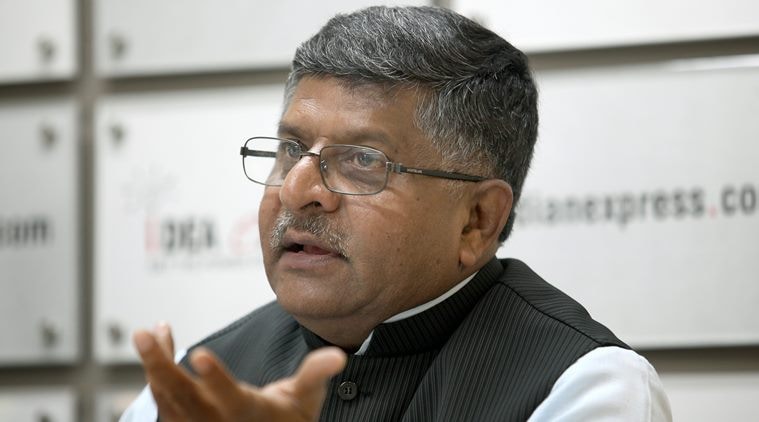 Union Communications and IT Minister, Ravi Shankar Prasad Friday said the government is considering a different ownership structure to "professionally" run the payments bank of the Department of Posts.
The government, which has committed to invest Rs 400 crore in the payment bank of the postal department, is hoping to launch the bank by March 2017 said Prasad. "We propose to have Rs 400 cr investment by the government and the rest by way of equity. It would be a separate architecture from the postal department. The bank will be run professionally," said Prasad.
The Postal department was one of the 11 entities to be given in-principle approval by the RBI to launch payments banks. However, at least three companies – Cholamandalam, Tech Mahindra and Dilip Shanghvi-Telenor-IDFC – have already said they would be surrendering their licences citing aggressive play by competition.
Prasad said the postal department has begun giving 4,000 hand-held devices to the rural postmen on a pilot basis and will soon be rolling out 1.3 lakh of such machines, which will help them sell third-party products, make e-commerce deliveries, etc. According to him, a major chunk of the department's over 1.5 lakh post offices are in the hinterlands, which contributes over 60 per cent of the e-commerce players' catchment area.
Prasad on Friday said over 22,000 post offices have already been connected under the core banking system and the department has also started over 800 ATMs.
Prasad also said that the government's ambitious Digital India programme is empowering the people across the country. He said the government has been working with a mission of "banking the unbanked, funding the unfunded, securing the unsecured and pensioning the unpensioned".
May 27, 2016
RICT Pilot / Phase I Rollout - Branch PO Data mapping with AO & Sub Division
It is requested to furnish the details duly signed by divisional head in scanned copy as well as excel format directly to RS - PIC e-mails IDs (rspic@indiapost.gov.in&rict.cept@indiapost.gov.in) on or before 30.05.2016. The response must be submitted only by means of India Post Domain email ID.
Download Directorate order Copy and format in word file.
From: Director (CBS) <directorcbs-del@indiapost.gov.in>
Date: 26 May 2016 at 08:23
Subject: Re: Regarding pendency of previous FY NSC & KVP
Dear all SPOCs and Respected Heads of Circles
Kindly refer to trail mail. It has been found that in many post offices NSC and KVP of previous financial year are still pending for issue as these offices had not completed this work by 15.4.2016.
Now, Directorate, in consultation with Infosys Team has decided to provide one day window on 29.5.2016 (SUNDAY) for opening NSC/KVP accounts for the previous financial year for which cash or clearing has already been accounted for. For this, User has to select old NSC Scheme Code at the time of issue and printing as scheme code for new NSC has been changed. For KVP, there will be no issue. It has to be ensured that stock against old NSC scheme code is available in the system before issue. All these issues will be reflected in the reports of Monday.
Please note that this solution will be stopped before start of operations on Monday and during this period, no NSC or KVP for the current financial year should be issued. Therefore, sufficient staff (User and Supervisor) should be called on Sunday based on pending work to complete this task.
CEPT Team
CEPT Team will process the relevant patch and do required changes in configuration, once HSCOD for the Saturday is completed by all SOLs and revert the changes before 9 AM of Monday.
Parameter for back value date should also be changed from 30 Days (current setting) to 70 Days during this period so that pending NSC KVPs can be issued. This should also be reverted alongwith other parameters.
Infosys Team
Infosys Team should provide support on the Sunday for completion of this pending work and publish contact details of the support person.
With regards,
Sachin Kishore
Director (CBS)
Sansad Marg,
Dak Bhavan
To attract the attention of youth and Children, 2 letter boxes have been redesigned with Pencil type stand at two prominent locations in Bengaluru, one at Bible Society of India, Anil Kumble Circle on M.G.Road and the other in front of Bishop Cotton Boys School.
Few Letter Boxes were also installed in Indian Oil Corporation owned Petrol filling stations to facilitate the visiting customers to drop their letters.
As per Directorate orders Menu for Pension / Salary upload and also SOL change Menu is Disabled for System Admin users and it is enabled for H.O Postmaster ID only. Hence, kindly clarify that whether single file is to be uploaded for all SOLs Pension & salary under H.O SOL ID and also clarify the accounting procedure for pension & salary upload, since the uploaded total amount will be in H.O LOT only as SOL Change Menu is disabled for all users.
Clarifications received from Directorate for the above case:
Please ask Accounts branch to provide list of Pensioners opted for credit of pension with Account number and amount of Pension irrespective of account stands at SO or HO or Pensioner is HO or SO pensioner. Account for the money at HO as SB Deposit and Pension Paid. There is no separate head of account at SOs for Pension payment and ultimately total pension payment is booked under same head of account in HO cash Book.
PLI RPLI Service Tax Ready Reckoner Tavble w.e.f 01.06.2016
(Revised Rates vide PLI Directorate letter no. 29-9/2013-LI dated 11.05.2016)
PLI/ RPLI Service Tax Table (BO) wef. 01.06.2016
​PLI/ RPLI Service Tax Calculator wef. 01.06.2016
Previously for excess deposits there was no procedure in DOP Finacle we use to make an error entry and do the correction according to the procedure.
Actually we have a special menu for reversal of any type of transaction in DOP Finacle which isHCRT.
HCRT stands for Create and Update Reversal Transaction.
Scenarios in which we can use HCRT menu
This menu can be used in the following scenario
When an erroneously excess deposit made accounts i..e, recently due to server problem when we post the RD bulk lists system credited twice in some of the accounts. For those accounts to reverse the excess deposit we have to use this menu.
Step by step procedure for reversal of Transaction using HCRT menu
First invoke the menu HACLI and view the ledger for the account which has excess deposit and note the transaction id, transaction date for reversal procedure as shown in the figure
In our example from the above screen an amount of Rs 1000/- credited twice for the reference number C1806108 which is incorrect. Hence we have to reverse the transaction for this we have find out the transaction id using the below procedure.
Click on the transaction date as shown in the below figure as shown in the below figure
After clicking on the transaction then the system will shown the below screen as shown
From the above note down the transaction ID and transaction date which is useful for reversal of transaction in case of excess credits only.
Invoke the menu HCRT then the system will shown the below screen as shown
In the above enter the following details as mentioned below
Select the Function as "R-Reversal"
Enter the Transaction Date ________________________
Enter the Transaction ID _________________________
As mentioned in the below screen shot
Then click on Go then the system will display the message Transaction revered successfully and the system will generate the system generated tran id with S------- note down the tran id.
Verification of Reversal Procedure using HCRT
In Supervisor login use the menu HCRT invoke the menu HCRT then the system will show the below screen as shown in the below screen
Then in the above screen select the function as Verify and enter the reference number as shown in the below screen
Then click on Go then the system will display the message transaction verified successfully.
Checking the RD ledger after Reversal
To know whether the transaction reversed correctly or not again inquire the ledger using the menu HACLI and enter the RD account which was reversed as shown in the below figure
From the above screen one can observe the transaction revered for Rs 1000/- and it is clearly visible in the narrative column as REVERSED : C18016108/CASH as shown in the figure.
Kindly note that all the reversal transactions done will not appear in LOT this is for your kind information.
KKN Kutty, national president of the Confederation of Central Government Employees and Workers, today said the employees of the Central government would stage a demonstration from June 9 onwards in case the "shortcomings in the seventh pay commission recommendations" were not rectified.
Kutty, while talking to mediapersons on the sidelines of the All India Trade Union Education Camp 2016 in Dehradun, said the seventh pay commission had recommended Rs 18,000 per month as minimum wage whereas it should be Rs 26,000 per month. "Thirty five to 40 per cent positions are vacant in the Central government departments which must be filled at the earliest," he said while criticising the government for its outsourcing policy.
"Several issues are there which should be resolved. We have asked the Centre to hold talks with us before June 9, otherwise we will be forced to launch an agitation," he said. He said it was wrong to link government employees with corruption. "It is in society and there should be a mechanism to check it," he asserted.
Earlier, while addressing the All India Trade Union Education Camp 2016, Kutty called upon the Central government employees to work unitedly towards ensuring justice for them.
Another speaker, Venkatesh Ramakrishnan, said the liberalisation policies followed by the rise of communalism in the country had adversely affected the working class. He said the Central government employees were facing challenging times as they were being neglected.
Source : tribuneindia
May 26, 2016
The Department of Posts will conduct a regional-level Dak Adalat at 11 a.m. at the Head Post Office here on June 20 when grievances of customers would be heard in person.
Customers can send their complaints to S.A. Mujeeb Basha, Assistant Director (RPLI and INC), Office of the Post Master General, Central Region, Tiruchi 620 001, on or before June 8. If the complaint is about a postal article, the complaint should contain full details such as date and time of posting, full address of the sender and addressee, registration receipt number with date and office of booking for MO, VP, registered, insured or speed post articles.
If the complaint is about savings schemes,postal life insurance or rural postal life insurance, it should contain the details of the recovery, account number, name and full address of the depositor/insured, name of the post office and any reference of the Postal Department .
Only those cases which have already been taken up with the divisions or units but have not been resolved to the satisfaction of the complainant would be taken up at the divisional level. No fresh cases will be entertained.
Complaints could be sent through ordinary or registered post. Grievances sent through private couriers will not be accepted. The covers should be super scribed as Dak Adalat – June 2011, says J.Charukesi, Postmaster General, Central Region, Tiruchi.
Source : The Hindu
Press Information Bureau
Government of India
Cabinet
25-May-2016 15:37 IST
Cabinet gives ex-post facto approval to the cadre review of Indian Postal Service (IPoS)
The Union Cabinet chaired by the Prime Minister Shri Narendra Modi today granted ex-post facto approval to the proposal for undertaking cadre review of the Indian Postal Service.
The cadre review will enable the Department of Posts to meet the functional requirements and strengthening the cadre structure both in the headquarters and in the field on the basis of functional requirement, which will provide more avenues to earn review and respond effectively to the customer needs, reduce the existing stagnation and improve the career prospects of Indian Postal Service officers.
The proposal will be implemented through measures that include creation of a post of DG(Postal Operations) in the Apex scale, creation of post of Additional DG(Coordination) in the HAG+ scale, one post in HAG level, 5 posts in SAG level and 4 posts at the JAG level, and also increase of 84 posts at JTS level by down-grading from STS and overall decreasing STS posts by 96 for adjustment of new posts proposed to be created, without any overall change in the total number of posts in the cadre.
For undertaking the above exercise, necessary consultations on the CRC recommendations with Ministry of Finance and the Ministry of Personnel, Public Grievances & Pensions have been duly completed. The Department of Expenditure have conveyed their 'no objection' to the proposal.
***
AKT/VBA/SH
A delegation of NFPE & AIPEU-GDS consisting of Com. R.N.Parashar, Secretaryy General, Com.P. Pandurangarao, General Secretary, AIPEU-GDS, Com.M.Krishnan, Secretary General, Confederation Com.K.V.Sridharan, former General Secretary, AIPEU Gr.C., Com. Giriraj singh President, NFPE and Com. Balwinder Sing, Financial Secretary, Gr.C (CHQ) tendered oral evidence before the Chairman, GDS Committee, headed by Shri Kamalesh Chandra in New Delhi on 26-05-2016.
The following are the gist of discussions and the demands placed by delegation.
BRIEF NOTE FOR DISCUSSION IN THE GDS COMMITTEE SCHEDULED TO BE HELD ON 26.05.2016
1. MAIN DEMANDS
The GDS are 'holders of civil post' as per the Supreme Court judgement and they can not be kept apart as a separate class with in the class. They should be covered under Article 309 & 311 of the Constitution of India. They should be treated as 'civil servants' apart from regular service but within the ambit of 'Civil service' with pro rata benefits as applicable to the regular employees according to the working hours and also the workload.
Notwithstanding our claim for departmentalization of GDS and Grant of Civil status, under Article 309 & 311 of union constitution the following issues are requiring consideration.
(i) The Nomenclature of GDS shall be declared as 'Rural Postal Employees' or Gramin Dak Karmachari".
(ii) Make GDS full time job by extending various innovative schemes.
(iii) Prorata wages at par with regular civil servants.
2. NORMS
Norms may be introduced for calculation of wages instead of honorarium & incentives.
(i) Work related to RPLI like procurement of proposal & issuing receipts
(ii) Work related to verification of Electoral & Election work
(iii) Work related to collecting statistics for Census etc.
(iv) Work related to M.G.National Rural Employment Guarantee Scheme
(v) Verification of Mobile Phone Bill Connections of various companies & BSNL
(vi) Collection of Telephone Bills at BOs
(vii) Acceptance of Electricity Bills at BOs
(viii) Acceptance of Water Bills at BOs
(ix) Carrying out business activities through BOs like delivering of E-post etc.
(x) Various social security schemes & Direct Benefit Transfer schemes introduced in various States through BOs.
(xi) Cash remittance from BOs to Accounts office.
(xii) Opening of new accounts
(xiii) Marketing activities.
(xiv) Old age Pension & Disability Pension
3. WAGE STRUCTURE
(i) No GDS should be employed less than 5 hours work, per day.
(ii) Maximum of 8 hours with ½ hour lunch break.
(iii) Pay equations:
GDS BPM : Postal Assistant
GDS MD/SV: Postmen
GDS Packer
GDS MC MTS
GDS MM
(iv) Increment shall be at par with regular employees.
(v) The Nomenclature of TRCA shall be replaced with pay.
(vi) Weightage:The length of service shall be taken and Point to Point fixation for GDS.
(vii) Date of effect shall be 1.1.2016
(viii) Wages should not be reduced under any circumstances.
4. ALLOWANCES
(i) HRA must be granted to GDS at Par with regular employees.
(ii) Transport Allowance proportionate to regular employees.
(iii) For attending holiday & Sunday duties, double the allowance shall be paid
(iv) TA/DA shall be granted to seasonal Post offices.
(v) Split Duty Allowance for GDS Packrs in Sub Offices
(vi) Children Educational Allowance has to be introduced.
(vii) Boat allowance shall be Rs.350/- PM.
(viii) Special Duty Allowance to GDS (NE) – Proportionate to regular employees.
(ix) Revival of Uttarakhand Allowance @ Rs.1000/- PM.
(x) Grant of Remote Area/Naxalite Threat Area/Hill Area Allowance to GDS.
(xi) Miscellaneous Allowances viz., bad climate Allowance, Project allowance may be extended.
5. WELFARE
(i) Medical Attendance facilities – Reimbursement of Medical Claims for in Patient & out Patient treatments.
(ii) Funeral Allowance of Rs.10,000/- to the family of deceased GDS.
(iii) Circle Welfare Fund Scheme – Subscription shall be Rs.50/- per month.
6. LEAVE :All kinds of leave to be granted at par with regular employees-
(i) Encashment of leave salary to be extended to GDS.
(ii) Provision of Commuted leave facilities.
(iii) Retrograde Provisions of 180 days shall be dispensed with.
(iv) Maternity leave – 180 days from Government exchequer and not from the Circle Welfare Fund. Circle Welfare fund shall meant for grant for illness, education etc.
(v) Child care leave, Child Adoption leave to GDS.
(vi) Special disability leave to GDS – can also be extended from Dog, Snake bite etc. as in the case of Postmen.
7. SOCIAL SECURITY SCHEME
(i) Proportionate Minimum pension/Family Pension at par with regular employees.
(ii) GDS shall be brought under the Gratuity Act.
(iii) SDBS Pension Scheme shall be replaced with regular scheme. At least 10% of Pay shall be recovered from GDS & 20% shall be credited by Government as a Welfare Scheme. The present sanction of Rs.1500/- per year for Severance Amount to Pre 2011 GDS shall be enhanced.
(iv) Commutation Pension shall be introduced.
(v) Group Insurance Scheme – Monthly subscription Rs.100/- for the insurance coverage of Rs.2,00,000, 50% of Subscription shall be borne by the Department. Savings Fund shall be reviewed and enhanced.
8. APPOINTMENT & PROMOTIONS
(i) The word 'engagement' shall be replaced with appointment.
(ii) 100% Posts in MTS & Postmen cadres shall be reserved for GDS.
(iii) GDS shall be permitted to write LGO Exam alongwith Postmen/MTS for recorded vacancies.
(iv) Three Financial upgradations after completing 10, 20 & 30 years of service.
(v) No Minimum service for appearing Postmen examination.
9. CONDUCT & DISCIPLINARY RULES
(i) The existing GDS Engagement & Conduct Rules, 2011 shallbe replaced with CCS (CCA) Rules, 1965 & Conduct Rules 1964.
(ii) The GDS Rules must be declared as statutory Rules as per proviso of Article 309.
10. MISCELLANEOUS
(i) Present income & cost of BOs calculation should be reviewed along with all the new items of work
(ii) Foot beat & cycle beat may be revived.
(iii) Idle wait of GDS MCS shall be include in the work norms.
(iv) Uniforms to outdoor staff.
(v) Rationalisation of GDS into three categories of GDS one Postmaster, the second Postmen and third auxiliary MTS staff. They may be fixed with only two scales of running pay (Minimum 5 hours & for upto 8 hours with uniform annual increase of 3% per annum.
(vi) BO shall open for minimum 5 hours and maximum of 8 hours.
(vii) GDS in Metropolitan cities shall be upgraded to MTS Posts.
(viii) All GDS MM Posts in larger Platforms shall be upgraded to Mailmen MTS posts.
(ix) FSC at par with Departmental Post offices to BOs.
(x) LTC facilities may be extended to GDS
(xi) Lunch break/Tea break shall be provided
(xii) Total length of the GDS Service shall be taken as Qualifying service for all purposes.
(xiii) Rescind the restrictions and restore status Quo ante in case of compassionate appointments in GDS cadre.
(xiv) Advances like Festival, HBA, Motor Car, Computer Advance shall be introduced to GDS. Flood Advance shall be revised to Rs.10000/-.
(xv) Rent for BOs shall be fixed as per the market rates and paid by the Department.
(xvi) Office Maintenance Allowance shall be modified as 'office rent'.
(xvii) Electricity charges for BO shall be borne by the Department.
(xviii) Combination of duty which is having adverse effect shall be dispensed with.
(xix) Alternate source of Income shall not be insisted for GDS appointments.
(xx) Incentive for promoting small family norms shall be introduced to GDS also.
(xxi) Incentive to GDS Sports Person has to be introduced.
(xxii) Grant of TA/DA for conveyance of cash – At least Rs.100/- per occasion shall be granted.
(xxiii) Any GDS summoned for witness in Inquiry shall be paid TA/DA
(xxiv) All terminal benefits shall be paid to GDS on the date of retirement at par with regular employees.
(xxv) The date of retirement of shall be the last date of the month.
(xxvi) If any additional work is entrusted, the establishment review must be under taken to enhance the pay.
(xxvii) Security Bond system to be dropped, as per Vth CPC report.
(xxviii) Co-operative dues can be recovered from GDS.
(xxix) BO Rule book with updated correction shall be supplied once in two years.
(xxx) The exam fee shall be waived.
(xxxi) Identify card to the GDS shall be supplied by the Department at departmental cost.
(xxxii)There should be no loss of annual increase/increment on availing the transfer facilities to GDS.
(xxxiii)Revenue generated from all items of work has to be added for apportioned income of BOs.
(xxxiv)BPM should be treated as a skilled worker as it requires a technical certificate for the recruitment.
(xxxv)Training & retraining must be given frequently in the guise of Rural ICT and introduction of various new schemes.
11. TRADE UNION
(i) All Trade Union facilities like meetings, special casual leave etc. as if available to regular staff at all levels.
(ii) The Facility of Foreign Service and JCM Provision shall be extended the GDS. Allocation of seats in the JCM (DC) for GDS shall be considered.
DATED : 26-05-2016
NEW DELHI
(P.PANDURANGARAO)
GENERAL SECRETARY
AIPEU-GDS
The Chairman, GDS Committee gave a patience hearing on the above all items and assured consideration.
Procedure to be followed for suspension of All India Service officers posted in Ministries/ Departments/ State Governments under AIS(D and A) Rules, 1969 - regarding.
MUMBAI: RBI deputy governor SS Mundra today expressed displeasure over two in-principle licensees cancelling their plan to set up payments bank.
"We would certainly feel little aggrieved because lot of efforts from the part of RBI goes in processing these applications," Mundra told reporters here.
Last week, Sun PharmaBSE -1.10 % founder Dilip Shanghvi with IDFC Bank and Telenor pulled out from the payment banks race.
Before this, CholamandalamBSE -1.14 % group dropped its plan to set up a payments bank a couple of months ago.
Last August, the RBI gave in-principle approval to 11 applicants including Department of Posts, Aditya Birla Nuvo, AirtelBSE 0.30 % M Commerce Services, Fino PayTech, National Securities Depository, Reliance IndustriesBSE 0.00 %, Tech Mahindra and Vodafone m-pesa for setting up payments banks.
Besides Shanghvi, Paytm's Vijay Shekhar Sharma was also a successful candidate.
When asked whether RBI may levy processing fee on the entities which have pulled out, Mundra said the current regulation does not give scope of charging a processing fee.
"Unfortunately, that kind of enabling mechanism is not there today. But if we learn by experience, probably this is something which can help in augmenting our revenue to some extent," the deputy governor said in a lighter note.
When asked when the central bank will issue first licence for universal bank, he said there was no timeline.
"The opportunity to submit application would be available on ongoing basis but how long it will take...there is no prescribed (timeline). It needs due diligence and inputs from various agencies and you cannot control their behaviours," he said.
Earlier this month, the RBI issued draft guidelines for issuing on-tap universal bank licences.
Mundra said apart from payments and small finance banks, there is a room for some more categories of differentiated licences too.
Source:-The Economic Times
MUMBAI: Tech Mahindra said it was dropping its plans to start a payment bank as the increasing aggression in the business would have eroded its margin potential.
Tech Mahindra become the third license winner to pull out of the business. Sun Pharma promoter Dilip Shanghvi and Cholamandalam Investment and Finance Co. had already announced that they would not be setting up the bank.
Tech Mahindra said it would look to surrender its payment bank license to the Reserve Bank of India.
The RBI had initially received 41 applications to start a payment bank in February 2015 and issued 11 final in-principle licences in August.
Source:-The Economics Times
The unit will monitor projects across the three departments of the ministry — Department of Telecommunications, Department of Posts, and Department of Electronics and Information Technology.
To curtail delays in implementation, and increase accountability for some of its key projects, the Ministry of Communications and Information Technology is in the process of setting up a project monitoring group, a senior government official said on condition of anonymity.
The group will monitor projects across the three departments of the ministry — Department of Telecommunications, Department of Posts, and Department of Electronics and Information Technology.
The monitoring unit, which will comprise seven to eight members, will report directly to the Minister of Communications and IT Ravi Shankar Prasad, the official said, adding that it would help the ministry identify the exact causes of delay in some of its flagship programmes such as BharatNet.
BharatNet, which was earlier known as National Optic Fibre Network, originally targeted to provide broadband connectivity to 1 lakh gram panchayats by March 2016, but was deferred to December 2016 due to delay on part of the implementation agencies.
Furthermore the official cited above said that to ensure timely completion of other projects such as setting up of the Postal Payments Bank and expansion of Bharat Sanchar Nigam Ltd's (BSNL) network infrastructure, the group will also work on analysing issues that could arise and report it to the minister with possible solutions for the same.
To modernise BSNL and to make it relevant in the competitive environment the public sector undertaking has plans to invest Rs 2,000 crore for the upgradation of its network which includes adding another 21,000 base transceiver stations, including 13,000 for its 3G services.
Also, the Department of Post has slated a March 2017 launch for its payments bank, and the Ministry of Communications and Information Technology has moved a Cabinet note on India Post's payment bank proposal and is likely to seek the approval of the Union Cabinet this month.
Even as the communications ministry has announced several policy decisions and programmes to improve connectivity in India, some the infrastructure projects have faced obstacles in the implementation stage.
The official also said that the ministry had already taken presentations from some of the leading consultancy firms, and one of them will have representations in the monitoring group when selected.
This communications ministry's monitoring unit is expected to be on lines of the Project Monitoring Group that functions under the Prime Minister's Office. The group is an institutional mechanism for resolving a variety of issues including fast tracking the approvals for setting up and expeditious commissioning of large public, private and public-private partnership projects.
Some Important Tags at PoTools
.Net Removal Tool
( 2)
.Net setup
( 3)
Aadhar Software
( 5)
Accounts
( 20)
accounts error
( 9)
Accounts MIS
( 10)
accounts PBS
( 8)
AD Rollout
( 12)
Adware Removal Tool
( 5)
Allowance
( 13)
android indiapost
( 22)
Annual Property Returns
( 7)
antivirus
( 27)
Atal Pension Yojana
( 19)
ATM
( 44)
Bhuvan India Post
( 5)
BNPL
( 16)
BO Account verification Tool
( 2)
BO Tag
( 7)
Bonus News
( 21)
Bootable USB
( 7)
branch office
( 9)
BSNL
( 7)
Bulk eMO Payment
( 1)
CBS
( 148)
CBS Addon
( 14)
cbs dataentry
( 2)
CBS Migration
( 18)
CC Bridge
( 2)
ccleaner
( 9)
Central Government Employees
( 46)
CEPT FTP
( 6)
Certificate
( 8)
Child Care Leave
( 5)
Children Education Allowance
( 4)
Chrome Addon
( 5)
Circular and Orders
( 34)
COD
( 96)
Collection of SB Orders
( 8)
Config file generator
( 4)
Data Profiling Tool
( 37)
DB Tools
( 8)
DBA Updater
( 10)
DBAnalyzer
( 69)
despatch
( 28)
despatch error & Solution
( 29)
Discrepancies tool
( 25)
Discripencies tool
( 1)
DOP Browser
( 3)
DOP Clients Configuration
( 4)
dop news
( 29)
DOP Order
( 26)
DOP Tools
( 27)
Downloads
( 3)
drivers backup
( 5)
eMO
( 39)
eMO Client
( 21)
ePayment
( 35)
ePayment Cheque
( 4)
ePayment error
( 7)
ePayment updates
( 2)
ePost
( 14)
finacle
( 387)
General
( 190)
Greetings
( 6)
IMO
( 11)
Income Tax
( 41)
India Post
( 87)
interest calculator
( 13)
interest Posting
( 17)
interest Rate
( 27)
Internet Explorer
( 7)
McCamish
( 91)
MM 7 Update 8
( 12)
MM 7 Update 9
( 44)
MM Update
( 19)
MM Update 7.9.3
( 17)
MM Update 7.9.4
( 6)
MM Updater
( 12)
mm7.3 errors
( 24)
MO Compilation
( 4)
Mobile Money Transfer
( 5)
Mobile tracking
( 4)
Negative List Updation
( 19)
New Pension Scheme
( 9)
New Services
( 2)
newupdate
( 118)
NREGAEMO error
( 5)
Parcel Net
( 33)
passbook printer
( 13)
Pay Commission
( 538)
Payments Bank
( 24)
PDF Converter
( 2)
PLI Calculator
( 9)
PO Tools
( 55)
point of sale
( 41)
POSB Calculator
( 15)
Postman
( 85)
postman error
( 42)
printer
( 23)
PT Tools
( 8)
R Net Communication
( 32)
RD Customer Package
( 2)
rd Deposit error
( 4)
Recruitment
( 37)
RNet Communication
( 9)
Sanchay Post
( 62)
Sanchaypost error
( 27)
SB46 Intimation tool
( 7)
SBCO Utility
( 45)
sdc updates
( 10)
Signature Tools
( 13)
softwares
( 23)
SOSB Tools
( 8)
SP Patch updater
( 37)
SPCOD
( 41)
Speed Net 4.1
( 9)
Speed Net 4.1.1
( 9)
Speed Net 4.2
( 49)
SpeedNet error
( 23)
Speednet update
( 24)
SpeedNet Update Status
( 3)
speedpost tariff revision
( 4)
SQL 2000 Suspect
( 8)
SQL and windows
( 38)
sql backup
( 9)
SR Tools
( 16)
Sub Account
( 25)
sub accounts
( 10)
Supplementary
( 11)
Swachh Bharat Service Tax
( 5)
symantec
( 17)
sysadmintools
( 9)
System Utilities
( 6)
tariff revision
( 4)
TDS Software
( 6)
Tool for Holidays 2014
( 3)
Tool for Holidays 2015
( 2)
Tool for Holidays 2016
( 6)
Transfer
( 12)
treasury error
( 12)
usefulpost
( 110)
VP Intimation
( 8)
Weblink
( 35)
windows 2003 server update
( 8)
windows error
( 10)
windows troubleshooting
( 44)
Windows XP
( 10)

Featured Post
PLI RPLI Service Tax Ready Reckoner Tavble w.e.f 01.06.2016 (Revised Rates vide PLI Directorate letter no. 29-9/2013-LI dated 11.05.2016...

Latest Releases of PoTools

Postal Examination Sites
CBS Migration Update Zone : Exclusively for System Administrators
to Check Discrepancies
Any Queries related to Post Office(s)/ Latest Updates / your ideas can share with PoTools via potools1@gmail.com